Nieuwe Prinsengracht 60, Amsterdam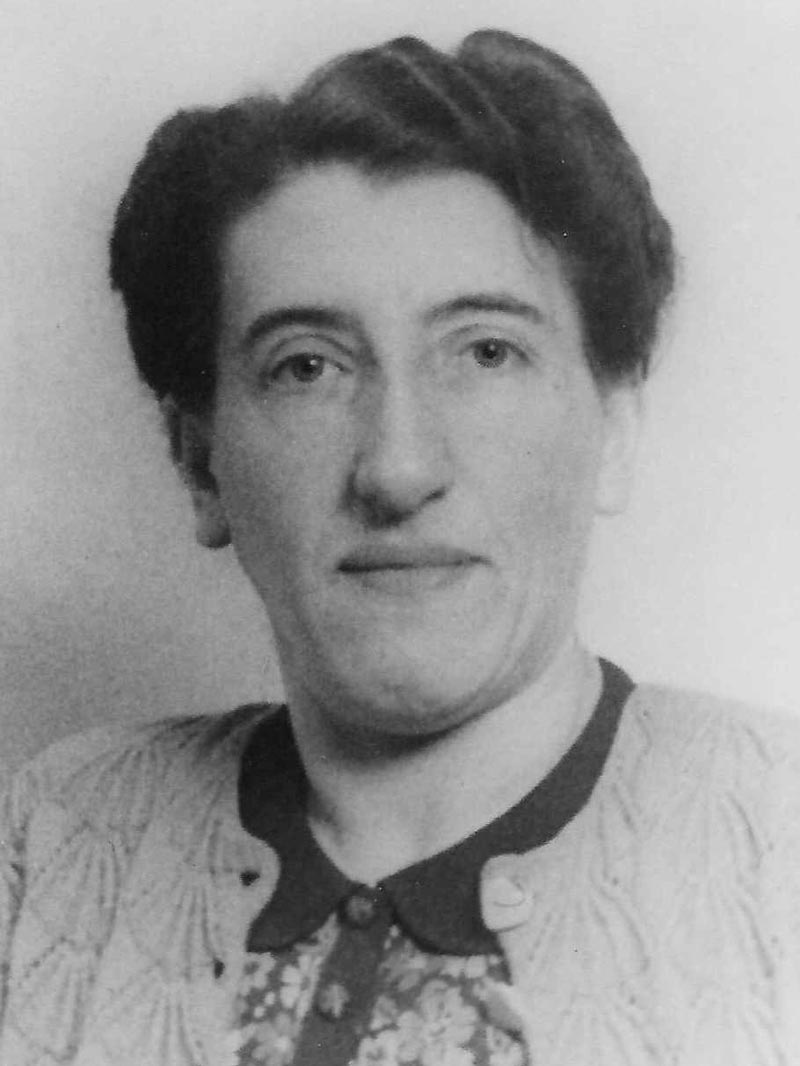 Roosje Colthof was eight years old when the war broke out. She lived with her mother and her mother's sister, Aunt Gonda, in a bottom floor flat. "My mother worked in the laundry room of the Dutch Israelite Hospital on Nieuwe Keizersgracht. She was in charge of sorting and stacking the clean linens and putting them in the proper compartments so the staff wouldn't use the wrong size linens.
Roosje's parents were divorced, she hardly had any contact with her father. After September 1st, 1941, when she was no longer allowed to go the public school she had always gone to, she went to the Palacheschool, an orthodox Jewish school around the corner. Roosje's mother wasn't orthodox, her father and her aunt were. At the orthodox school, Roosje started to become more interested in religion.
Roosje didn't play much with other children, she spent most of her time playing with her dollhouse. "I had one girlfriend, she wasn't Jewish, Willy Klunder. When the Germans decreed that Gentiles were no longer allowed to have contact with Jews, Willy's father wouldn't allow me in their home anymore. I was very upset about that. I wasn't frightened, and I wasn't angry at the Germans, but I was with the Klunder family."
Nieuwe Keizersgracht, Amsterdam
After a razzia in their house, the upstairs neighbours were taken away and it became too dangerous to keep on living there. From that evening on, Roosje and her mother and aunt stayed night and day indoors in the hospital. It seemed safer. It was very crowded. There were many other married staff members who were living in the hospital for the same reason. Roosje played with the other children in the conference room in the sister's house.
There was an outbreak of scarlet fever and Roosje, too, had to be admitted to one of the hospital wards.
On August 13, 1943, the Dutch Israelite Hospital was emptied. The Germans took everyone away, except for patients who had just been operated on and patients who were contagious. When Roosje's mother came to say goodbye, she gave her a bag with 25 guilders in it. "I tried to make my mother sick, because I knew if you fell ill in Westerbork, you wouldn't immediately be sent on to Poland. Aside from the bag and the 25 guilders, I also was given five postcards - I never read them, but they probably said I was still in the hospital. A nurse who was allowed to stay on to take care of the sick children, mailed the postcards."
Amsterdam, unknown address
The Van de Bunt family picked Roosje up. "I wasn't allowed near the windows and I had to hide under the bed. I think the reason they were so frightened was because one of their sons had joined the SS."
Mrs. Van de Bunt said over and over again: "Your mother will come back." Roosje believed her, she thought she was a fortune-teller, because she was always playing with cards. "Later on, I understood, she was just played endless games of solitaire."
Plantage Middenlaan, Amsterdam
Roosje was homesick and the Van de Bunt family thought it would be better to send her back to her mother. "They took me to the nursery across the street from the Hollandsche Schouwburg. They kept the bag with the 25 guilders."
Because Roosje was not officially registered at the Hollandsche Schouwburg, the Resistance was able to smuggle her out of the nursery to a place where she could go into hiding.
Blerick
After two and a half weeks, someone came up to her and said: "You'll have to put on as many layers of clothing as you can. We'll go out for a walk and you keep to the back. When we near the station, you must slow down and hold back. We'll walk on. Then some people will come and get you."
Roosje and a number of other children were taken by Gerard and Jaap Musch from the Naamloze Vennootschap(trans. Public Limited Company)Resistance group to Blerick.
Hengelo
Shortly after that, on December 5th, 1943, Roosje and four other girls were taken to Hengelo. "I went on to Nijverdal the next day, I was the only one, the four other girls stayed on in Hengelo. No one explained anything to me, that's just the way things were. But I thought it was horrible, now I didn't know a soul."
Parallelweg 11 Nijverdal
On December 6th, Roosje was taken to stay with the very strict Dutch reformed, 68 year-old, Mrs. Krommedijk in Nijverdal. She lived there with her niece Janna and her sixteen year-old foster child Johanna with whom Roosje shared a bedroom.
| | |
| --- | --- |
| | |
"At the reformed school in the village I went to, I was introduced as Rosien van Vliet, the alias Mrs Krommedijk had thought up for me."
One day there was an incident. Roosje would always come home for lunch. One time, the ladies put a plate in front of her with an open-faced sandwich with fish on it.
Mackerel", Mrs. Krommedijk said.
After I'd taken my first bite, she asked me:"Isn't this delicious? It's smoked eel!"
I immediately felt sick to my stomach, rushed to the toilet and threw it all up."
After a couple of weeks, the four other Jewish girls were brought to Nijverdal as well. Together with the founder of the Naamloze Venootschap, Jaap Musch, they stayed in one of the two country cottages that were on the village outskirts. Roosje would often go visit them.
"When I would go to the cottage, I would often bring food from Mrs. Krommedijk. Bread and other groceries would be brought to us by the baker's son, Herman Flim, who took care of more than 70 Jewish children, including Ed van Thijn, who later became the mayor of Amsterdam."
Lemelerveld
In September '44, a car was stolen in Nijverdal. After members of the Dutch Home Guard found a vat of petroleum in the vicinity of the cottage, they raided the cottage. The Jewish girls saw the police approaching and escaped unnoticed into the woods. Jaap Musch remained in the cottage, he had nothing to do with the theft and thought running would only make him look suspicious.
Jaap Musch was taken away. Herman Flim found the girls later that evening. Jaap Musch did not return. "Because we weren't certain whether Jaap might break under torture, we were immediately taken somewhere else. I was taken with one of the other girls to a farmer in Lemelerveld. Herman regularly visited us to tell us what he had learned about Jaap. He was now the person we trusted."
Julianastraat 14 Nijverdal
After that, Roosje went to stay with the Hazebroek family, another short-stay address. "One morning, the air-raid alarm went off and we had to quickly rush down into the bomb shelter behind the house. Mrs. Hazebroek wasn't able to, she was an invalid. Because she needed help, I stayed with her. Three bombs fell, one behind the house, one in front and one on the house, that landed about three meters (ten feet) near me, but didn't explode. Mrs. Hazebroek was covered in glass shards, but I was fine, perfectly fine."
For the time being, Roosje and the Hazebroek family are quickly rushed off and housed in a villa belonging to someone from the railways.
Hulsen
After the Germans requisitioned the entire house, they were obliged to leave and were evacuated to Hulzen, a town on the border of Twente and Salland. There they were put in a so-called "cooking house", a kind of shed that farmers would use in the summer months to cook their meals. "I slept in a double bed with the elderly Mrs. Hazebroek. Two of the farmer's daughters slept there as well. One time, I jumped too hard on our bed and it collapsed. After that, I had to sleep all by myself in the stable; the cows were at my feet and the pigs and the barrel we used as a toilet next to me. It was filthy and the stench was horrible."
Julianastraat 14 Nijverdal
Once the Hazebroek house in Nijverdal was repaired, they all went back.
"Not much later, the Canadians arrived. On May 5th, everyone was dancing in the streets and I remember this one boy who kept wanting to dance with me. I looked horrible, had these strange clothes, my hair was a mess, I was unhealthy and fat from a bad diet, so I just didn't understand why he wanted to dance with me. What was to become of me? I had no one left."
Kampen
In the end, Roosje ended up with an uncle who had survived Auschwitz. "On the front door was a sign that read "Colthof". I liked that, because it was the first time I'd ever seen my own name on a door. It hadn't been like that with my mother, before the war. And definitely not, during the war years, while I was in hiding. It was as if only just then I was given my own name."