Berlijn
Uschi Littmann was born into a family of five. She had two sisters, Gerda and Melita, nine and 11 years older, and brother, Jacques, who was three years older. Her parents were originally from Poland Bucknell under the pressure of anti-Semitism to Berlin. It wasn't orthodox family and they stuck to koosjer kosher cooking. In order to assimilate as much as possible Uschi did go to an ordinary state school. Father Leo Littmann died when Uschi was six. That meant her mother, Rosa Boudner, had to work more so that Uschi was often alone. When Hitler came to power in 1933 anti-Semitism in Germany was quickly on the increase.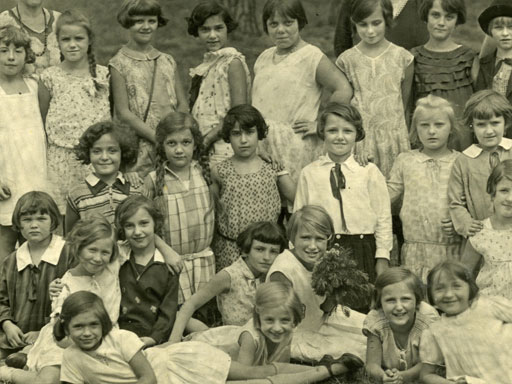 In the library where Uschi went every day after school a couple of young women were working were members of the Communist Party. These young women asked Uschi to join in their social cultural education evenings. This group later developed into a Resistance group, led by Heman Baum.
I was then 12 years old, it was terrible. You saw all those Nazis marching through Berlin. They were chanting 'Heil Hitler' and anti-Semitic slogans. Our house had a caretaker and he went around in an SA uniform. He had a large Alsatian and I was dead scared of it. At school things were different too. In the break I used to play with a girlfriend and also happened to be called Ursula. One day her mother called her speak to her. When she came back she said with a very red face: 'Uschi, I'm not allowed to play with you any more.' 'Why not?' I asked.'You're Jewish.'
As a 14-year-old Uschi went to work in a ladies hat shop. She wanted to go to the Art Academy but by then this was forbidden for Jews. She had little motivation for school work. In 1938 the Kristallnacht took place. Uschi was working in the atelier of the hat shop that day.
We were in the basement. Above our heads everything was devastated. When it was over, I went home and stop two boys in Nazi uniform came towards me and wanted to attack me, but one of them said: 'Not that one, it's our neighbour.' So that was me. In that period, the Nazis arrested especially many Polish Jews and sent them to concentration camps. We decided to escape. My older sister had contacts in Amsterdam. We crossed the border illegally with the help of a friend of my sister's.
Amsterdam, Frederik Hendriklaan
In the Netherlands Uschi joined the Socialist movement. She was surprised at the naive attitude of the Dutch with regard to the threatening danger.
I registered with the Socialist party and became a member of the A.J.C. We did folk dancing. Politics doesn't interest them at all. The only thought of getting engaged and saving for a trousseau. I thought that was all nonsense and stopped going there.
Uschi then joined a socialist group that looked after political refugees. This group later developed into the Resistance group 'Tehuis Oosteinde'. Uschi here met Max Rubinstein, also a Polish-Jewish refugee. When the Germans invaded the Netherlands they realised things would be exactly the same here as in Germany. After the first summons appeared for Jews to report, they tried to warn people.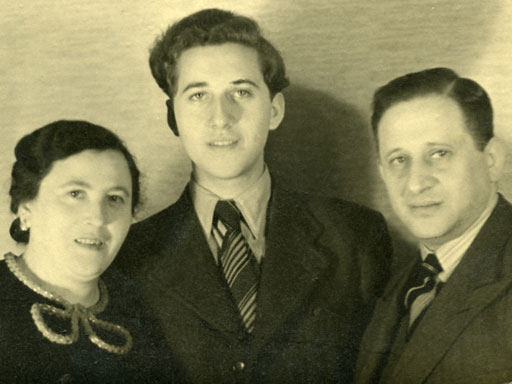 Amsterdam, Keizersgracht
Uschi went into hiding with the couple on Keizersgracht where she had a hiding place under the floor. Max worked for the Expositur with the Jewish Council in the Hollandsche Schouwburg. He was involved with a Resistance group of which Jacques van de Kar was the leader. This group trying to smuggle as many people as possible out of the Schouwburg. He also produced fake IDs and other documents for other resistance groups and private persons. Because Max worked with the Jewish Council he got a Sperre. Because people said that the Sperre was founded longer if you were married, Max and Uschi got married.
Amsterdam, #8 Berkelstraat
Through a Frisian girl who also worked in the Resistance, Uschi and Max could move into a house in Berkelstraat. Max hit his illegal papers and tools behind a tiled hatch in the kitchen.
Through the aliens police Uschi managed to get a real personal identification card with a fake name on it. From then on she was called Ursula Sekely and came from Czechoslovakia. Because she could go out without a Jewish Star she was an ideal courier.