The little lady with her fancy big city ways
Puck (Sara) Aronson Gobitz, born in Amsterdam, on October 17th 1928
Vrijheidslaan, Amsterdam-Zuid
Puck Aronson was born in 1928 in the Eerste Oosterparkstraat in Amsterdam as Sara Gobitz. She was an only child. Sara's father was a salesman, her mother helped him with the business. The Jewish faith was not adhered to at all in her home. "Except that my grandfather would always walk over from his house on Hoogte Kadijk to our house to visit us on the Sabbath."
Before the war broke out, Sara was quite unaware of rising antisemitic sentiments. "Except when I was in grade school. I was enrolled at a school on Meerhuizenplein with rather a lot of Jewish children. Even the smartest Jewish children were put in classes far below their level. I was sent on to a domestic science school which was also not at all compatible with what I was capable of."
| | |
| --- | --- |
| | |
When the war broke out, Sara was living on Amstellaan in the southern part of Amsterdam, which is now known as Vrijheidslaan (trans. Liberation Avenue). "I was walking down the street. Rows of people were standing there, watching to see what was happening. That's when they came marching in, the Germans, marching over the Berlage Bridge. Many, many people from Amsterdam started shouting enthusiastically: 'Sieg Heil!' And I thought to myself: What on earth is happening?"
Trompenburgstraat 143 III, Amsterdam
Shortly after the war broke out, Sara's father was sent off to a work camp, this would mean that the family would be "spared". It was a trick. They received a couple of postcards.
Amsterdam-West
One of Sara's mother's relatives, Max Silas, was in the resistance, he pressured her mother to find a place for Sara to go into hiding. "I ended up staying with an old lady in the western part of Amsterdam. I had a small suitcase with me, a bag and a large notebook with a cardboard cover. I used the notebook to keep a diary."
There was also a Jewish family in hiding with the old lady, a father, mother and an older daughter. They were refugees from Germany who spoke Dutch poorly. "The old lady had two sons, one of them was "good", the other was a member of the NSB. The good son would bring us bread, but when the doorbell rang, it could also be the NSB-son coming to visit his mother. I had to immediately rush up to the room where the other people were hiding. We couldn't do anything, we couldn't move, cough, go to the bathroom. Hold our breath, that's what we were expected to do." After a couple of months, the tension was too much for the old lady and all of them had to leave.
Geldrop
After Sara had gone back home for a while, she was sent to a place above a butcher's shop in Geldrop for a month. "The stench of the meat and the scrapple would waft up through the floorboards. I've never been able to bear that smell ever again."
Keizersgracht 484 Amsterdam
Sara also spent several weeks in hiding at resistance worker Hester van Lennep's place on Prinsengracht. There were a lot of young students sheltered there who refused to sign up for the Cultuurkamer (trans. the Chamber of Culture imposed by the Nazi occupiers). "Hester van Lennep would let me bring tea and coffee up to the students. That was just thrilling!" Then Sara's mother fell ill and she had to return home to nurse her.
Drachtstercompagnie
Not much later, again with Max Silas' help, another place was found where she could go into hiding. Sara's mother brought her part of the way. "In the distance there's a woman holding a newspaper under her arm.", my mother said. "We're going to walk up to her, I'll walk on and you'll stop and wait. She's going to take you to a place where they'll take good care of you." "That was the very last thing my mother said to me."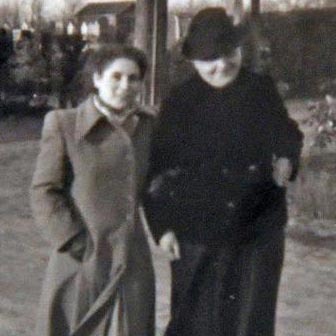 Sara ended up in Drachtstercompagnie and stayed with an elderly woman, a former schoolteacher, Gelkje van Koten.
"She thought I was quite a little lady with my fancy big city ways. When we arrived at her house that afternoon, it was about 3 p.m. She had made barley porridge cooked in buttermilk, served with thick molasses. I'd never eaten it before, it was very sour. I couldn't bear the taste of that barley porridge. And I told her so. 'It makes me gag.'
'These big city manners of yours, I won't have it. Eat it. Stop making a fuss, that's all you're getting.' And I didn't, that's all I was given for two days in a row. When she finally saw that I couldn't eat it, she took the plate away."
A few days after she arrived in Drachtstercompagnie, Sara was given new identity papers and from that moment on her name was Corrie Winter.
Every two, three months a woman who worked for the Resistance would bring ration cards. In December '43, she also brought Sara a letter from her mother, that she had written from the Hollandsche Schouwburg. "My mother writes that she is temporarily not in Amsterdam. 'But once the war is over, I hope you'll return this small necklace to me, the one I've put inside this envelope.' The necklace with its' little diamond was no longer in the envelope. It was gone."
Sara hid the letter under the stair carpet. But then, not long afterwards, the carpet was removed for cleaning together with the rods holding it in place and the letter was in plain sight. The letter had to be destroyed because the chances of being betrayed were too high.
'What is this?', the lady asked me. I started to cry. I didn't know then that it was a goodbye letter, but I sensed it was.
It was so horrible and, to this day, it still feels that way now."
Every day, Sara would bicycle to Drachten. One time, the owner of the only café in Drachtstercompagnie started bicycling behind her. "'You know, Corrie', he said, 'we all know you're a Jew girl.' 'Oh, well, then you know more than I do.' He kept on going on and on about it, all the long way to school. So I just repeated the story about my parents not being able to take care of me and how they were no longer my legal guardians."
Drachtstercompagnie, after the liberation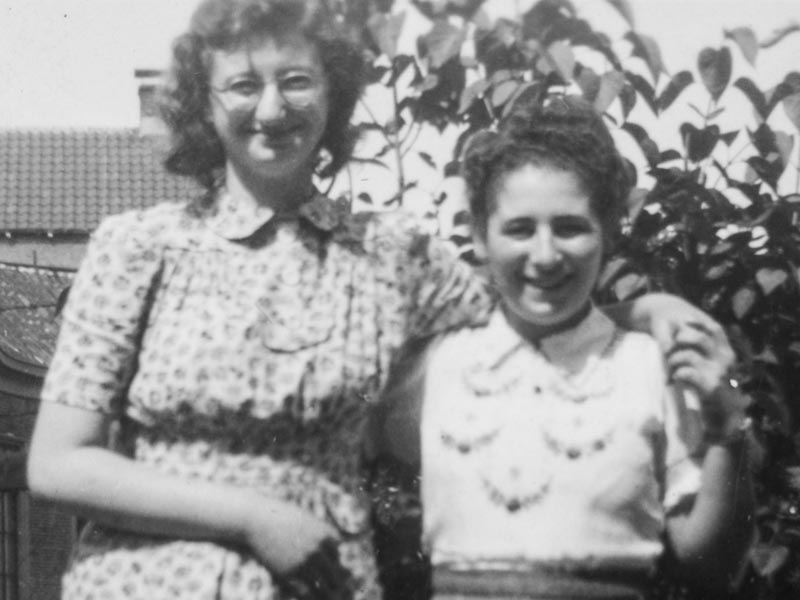 On April 14th, 1945 the Canadians liberated Drachtstercompagnie. After they were liberated, it turned out there were many more people who had been in hiding in Drachtstercompagnie.
"On the day we were liberated, the doorbell rang. 'Corrie', the old lady said, 'go open the door.' There was a girl standing on the doorstep. I'd seen her pass by the house for years on her way to church on Sundays. She said: 'I think we're related.'
'I think so, too.' I said. We felt we were related, even though we weren't really family.
'Who are you?', I asked her.
'Jettie de Groot.' she said. 'From Almelo.'
'I'm Sara Gobitz.' I said . 'From Amsterdam.' It was the first time I could say my name again. I am Sara Gobitz, it felt liberating."
Sara spent at least five years looking for her parents. "They've been sent to a prison camp, I thought, and they can't get back home. I would study people's faces at train stations, because I was sure my mother wouldn't be able to recognise me anymore."