Amsterdam, #37Lairessestraat
Rose-Mary Kahn grew up in a liberal Jewish family in Amsterdam. Her mother was from an orthodox background but her father had a free personal interpretation of the Jewish life. A modus vivendi was arrived at, whereby the religious feasts were observed but the dietary laws were not. Father René Kahn was one of the owners of the fashion shop Hirsch on Leidseplein. When the war broke out the family tried to escape to England but that failed.
'This is going wrong,' my mother said. 'I don't believe in going on working. We must try to get away.' She managed to convince my father because on the fourth day we went to IJmuiden.
All the boats were full up.
In 1941 father René was arrested and deported to Westerbork. He had been to visit a non-Jewish woman which was against the law. In 1942 they were warned.
One day, Saarloos, who worked with the state police, came to warn us: 'Tonight the Germans are going to arrest you, because they want your house.' Now we had no choice.
They fled and looked for help to Ang van Slooten, a Hirsch employee. They wanted to go into hiding and got help from an ex-teacher of Rose-Mary's, Mr Kuurman. Mr Kuurman was in the Resistance and found an address to go into hiding with the Van Zeeburg family in Doornspijk, a village on the Veluwe.
Doornspijk, #48 Veldweg (De Soppenhof)
Father René escaped from Westerbork with the help of a waste food collector who had heard from Ang van Slooten. Hidden under peels and skins he got out of the camp and reached Doornspijk. The rest of the war they stayed in hiding with the Zeeburg family.
There were two large rooms in that farm in Doornspijk. In the one, the Sunday room, the Van Zeeburgs had their coffee on Sunday mornings, in the other one we spent all week.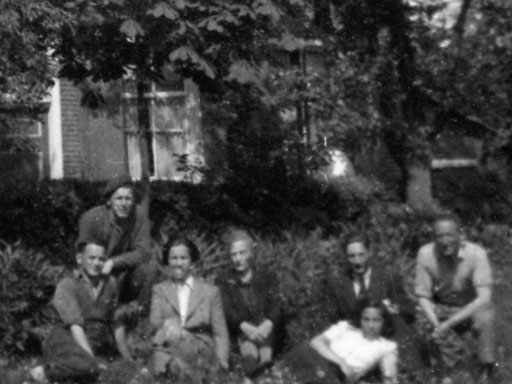 It was a very frightening time for Rose-Mary. They were not allowed out of doors at all. Her brother Rob made a hiding place in the space between the floor of the attic and the ceiling of the floor below it. You could get in and out through a hatch. They used it a few times but every time it proved a false alarm. Until one day somebody came to warn them that German soldiers were checking every single farm, looking for British pilots whose planes had been shot down.
One time they literally walked across the hatch. I was in mortal fear. That hatch saved our lives.
Doornspijk, #48 Veldweg (De Soppenhof)
In April 1945 they were liberated. When the whole family went outside they suddenly saw the straw in the barn move. Two German soldiers who had wanted to surrender had hidden in there. After the liberation they went back to Amsterdam. They could not go to their house in Lairessestraat because it was used by the state police. It was more than a year before it was vacated.
The Hirsch building had been so plundered that my father had to start again from scratch. And so he did, in Kalverstraat at first. After a few years we returned to Leidseplein. But it was never the same as it had been.