Amsterdam, #115hs Stadionkade
Lies was born into a family of four. She had one sister, Selly, who was more than seven years older. Her father, Jacobus Elion, was a diamond merchant. The family was not religious and for father Elion assimilation was very important. At the start of the war the family tried to escape by boat to England via IJmuiden.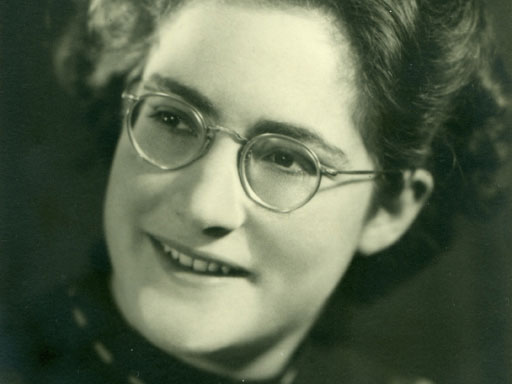 On the way they heard that the last boat had already departed. Her mother, Bertha, was in fact slightly relieved. She'd found it hard to part from everything that meant home to her. When all Jewish children had to leave their schools, Lies also went to a Jewish school, where she felt quite out of place.
I was the odd one out everywhere, with Jews and with non-Jews. Children kept disappearing, including my best school friend, Gertie van Berg, who walked to the Jewish school with me every day. We regularly sent food parcels to Westerbork. In '42 I got a last farewell card from her: We are on the way to Poland.
In June 1943, the Elion family were arrested at home during a razzia and sent via Muiderpoort Station in Amsterdam and the Hollandsche Schouwburg to Westerbork. Selly, Lies's sister, knew that she had to stay out of the Germans' hands. She managed to get away at Muiderpoort Station and went to her boyfriend Mark. Together they went into hiding. The Elion family was allowed to leave Westerbork, possibly because father Elion was a diamond merchant and had a Sperre. The address where Selly and her boyfriend Mark were hiding was betrayed and they were taken to the Hollandsche Schouwburg as criminals. The Germans found the address of the Elion family in Selly's address book and arrested them immediately. In the Hollandsche Schouwburg Lies and her sister Selly were offered a chance to escape, but both refused for fear of endangering their parents. For obscure reasons Lies and her parents were allowed to go home again. Selly and her boyfriend Mark were deported to Auschwitz.
Nieuw Vennep
On 29 September 1943, Lies was warned in the street that there was a large scale razzia going on. With the help of the De Swaan family on Stadionkade an address was found to go into hiding. Lies left together with Hannes Boogaard. Her parents were taken to another address.
At the farm of Hannes Boogaard in Haarlemmermeer (Noord-Holland) I was given a place of honour. 'Come and sit next to me, girl.' He comforted me and was very understanding. Later on he showed me a bedstead full of children, all of them in hiding. 'Do you see that you can't here?'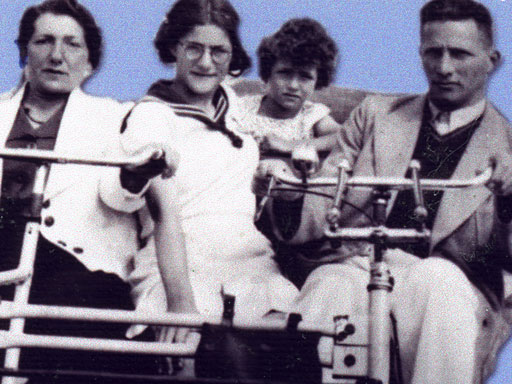 Lies was taken to an other family in Haarlemmermeer. Those people had really wanted an older person as a household help.
As a household help they quite exploited me: apart from all the daily chores they wanted me to wax the furniture once a week. Everything had to be shifted, and that was such a heavy job. Every night I lay in bed crying.
Hillegom, Stationsweg
When another razzia was in the offing, Lies was taken to the Ten Hoope family in Hillegom, where her parents were also in hiding. Whenever visitors came, they had to hide in a basement cupboard until the people had left. After a short while they had to go to another address in Hillegom, but there, too, they couldn't stay on.
We then arrived at a second address in Hillegom, from which we had to make a rushed escape because the name of our host was in the address book of someone who had been arrested for smuggling. Panic. There was no new address for us.
Hillegom, Hotel Vogelenzang
Desperate, father Elion walked into a hotel in Vogelenzang and asked for help. The owner of the hotel agreed as long as they would behave like 'normal' guests.
We ate in the dining room with the others. That was all right until an SS man came to sit at a table next to ours. Sheer tension made it almost impossible for us to swallow. We didn't dare look at him, and kept staring at our plates. Nothing happened.
Hillegom
After ten days in a hotel, a new address was found with Mrs Wisse in Hillegom.
We walked round in circles in a courtyard to keep moving and to try and keep warm. There was a large tub with rabbit feed in the middle of the courtyard. After every few rounds my father dipped his hand in the tub and took some of the rabbit feed out. "Mmmm," he'd say, "what a lovely meal!" He turned it into a real act but in fact he was simply hungry.
Lies's parents were very worried about Selly's fate and the tensions mounted. Here too, the Elions had to leave.
De Zilk, Zilkduinweg
A place was found with the Pos family in De Zilk. There were already other people in hiding there.
We stayed there for a number of weeks until Mrs Pos addressed my mother: 'I have to tell you something, I'm finding it very difficult to say so, but you have to find another address.' 'Why?' asked my mother. 'Your husband's expression is so glum. We can't stand his face any longer.'
Zilkduinweg, De Zilk
The Rooyakkers family, who lived a few houses away, were prepared to take in the Elion family. They could stay there till the end of the war.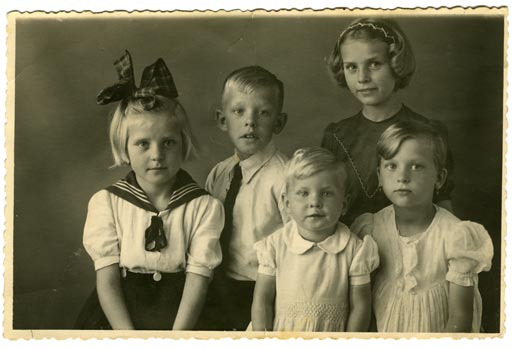 One morning the news of the liberation came. My father walked in his slippers to the village De Zilk – he simply couldn't believe it. There he saw notices nailed to the trees saying that we had been liberated. He took one of those sheets home. An hour later, we were standing near the chimney in the house where we were in hiding, he said: 'Liesje, you are now no longer Liesje Evers, now you are Liesje Elion again.'
Selly and her boyfriend Mark were both killed in Auschwitz.
I have often tried to take away my parents' sorrow, and to be a replacement for my sister, but it was not possible. Sometimes I said: 'Listen, I'm still here, you know.' If I said that, my mother's reaction was: 'To someone whose leg has been amputated you don't say: 'Be glad you've still got your other leg.' I heard that something like four times.