Amsterdam, #117 Ruyschstraat
Maurice was born into a family of four. He had one brother, who was three years older. His father, Salomon Meijer, was a tram conductor in Amsterdam and was married to Esther Jas, who had a job as a cap seamstress. Soon after the start of the war, Maurice's father was sacked from his job and put to work in forestry [all jewish municipal civil servants were sacked as a result of the anti-Jewish measures]. Shortly afterwards he and the men his group were deported. Maurice and his brother then went into hiding.
My brother and I had gone into hiding without my mother. I can't remember having to say goodbye to her one day. Drifting through the city, my mother worked for the Resistance until she was arrested.
Mother Esther was eventually deported to Auschwitz and did survive the war.
Amsterdam, #22 Nieuwe Herengracht
Maurice and his brother went into hiding with her uncle and aunt, Eli Talhuizen and Lena Talhuizen-Jas. Eli had a Sperre because he had a grocer's shop. Maurice and his brother slept in the attic.
Amsterdam, Eerste Constantijn Huijgenstraat
Here the two brothers stay for a short while in café de Zon with the Groen family.
Amsterdam, Jacob van Lennepstraat
A short stay with a nurse, a time of which Maurice has only few memories.
Amsterdam, Plantage Middenlaan
After they had been arrested, Maurice and his brother ended up in 'de crèche', the childcare centre opposite the Hollandsche Schouwburg. They were smuggled out by Resistance people and again went to stay with their uncle and aunt.
Amsterdam, #17 Amstel
Maurice and his brother were taken by Uncle Eli to the Nederlands Israëlitisch Jongensweeshuis thinking they would be safe there.
On 6 March 1943, on the Shabbath, the Germans raided the boys' orphanage after all and they took us for the second time to the Hollandsche Schouwburg. The Tuesday after we were taken to the Rietlanden in the eastern section of the port from where many transportation trains left for Westerbork
Mr Grootkerk, one of Maurice's uncle and aunt's neighbours, ran a transport service to the trains leaving for Westerbork.
Suddenly we heard someone call: 'Where are the Jasjes? Where are the Jasjes?' [Jasjes is the Dutch word for jackets.] And nobody reacted. It sounded as if someone was looking for jackets. But because my mother's name was Jas, my brother immediately knew they meant us. A small lorry drove slowly alongside the train and from it a man kept calling: 'Where are the Jasjes?' We worked our way to an exit and when the lorry stood right in front of our door we jumped into Grootkerk's vehicle.
Utrecht, Lucasbolwerk
Maurice and his brother were taken by the Amsterdam Students Resistance people to Utrecht.
High up in that basement there was a small window, and when you looked out, you saw legs pass by. No shoes, no upper bodies, just legs. And that's what we looked at all day.
Utrecht, Voorstraat
The brothers then ended up with an elderly couple who were under the impression that they were getting boys who had been bombed out of their house in Rotterdam.
On Mussert's birthday, NSB flags were out on the old folks' home across the road. My brother said: 'They'd better shoot that flag to ribbons!' 'Why?' they asked. 'Isn't it a nice flag?' A few days later they asked my brother to get something from the dresser. In the drawer my brother, who could already read, saw the NSB newspaper Volk and Vaderland.
Maurice and his brother were now separated. Maurice was temporarily lodged with the Borg family.
Unknown, Utrecht
At the next address too, Maurice could only stay for a short period.
They had made a peat box out of plywood for me. As soon as the bell went, they hurried me to the attic. Then somebody would lift me into the peat box. I fitted in nicely. As soon as I was sitting, they put the lid on and some peat on top. Peat was also stacked against the sides of the box so that it looked as if they just had a large store of it.
Bilthoven
Finally, in the summer of 1943, Maurice was placed with the Boerma family in Bilthoven. His stepmother there, Zus Boerma-Derksen, was a member of the Resistance group called Oranje Vrijbuiters. They organised several attacks on the railway line Utrecht-Amersfoort at the Fort Blauwkapel crossing, where the trains to Westerbork passed.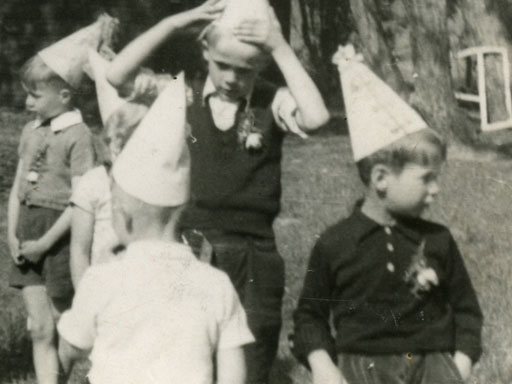 Bilthoven accommodated a great many people in hiding. To help them get a new name the local Resistance people destroyed the register of births and deaths with the aim of creating confusion about the population of the village. In order to ascertain who lived where, all the inhabitants had to report to have a new register drawn up. A perfect moment for people in hiding to become legal residents of Bilthoven under a new name. Since then my name was Ries Boerma and I was part of the family.
Maurice stayed with the Boerma family until the end of the war.
My mother was clearly marked by the war. The many years of being guided by her survival instinct had made her egocentric. She could only love herself. And she was jealous of my stepmother because I looked upon her more as a mother than my real mother. Subconsciously my mother occasionally tried to break the bond with my stepmother. When my stepmother turned 70, it was celebrated in grand style. She had hired bungalows for all her offspring. We travelled by public transport and were last to arrive. The moment we entered the party hall, she said: 'There! Now I've got all my children and grandchildren together!'