Amsterdam, #74/1 Zuideramstellaan (now Rooseveltlaan)
Frieda was an only child. Her father, Joël, was a window-dresser for De Bijenkorf, and married to Rebecca Ritmeester. The Mencos were a typically middle-class Jewish family. Religion played no part in Frieda's life. The Brommet family was completely assimilated. When the war broke out, father Brommet tried to escape with his family to England via IJmuiden.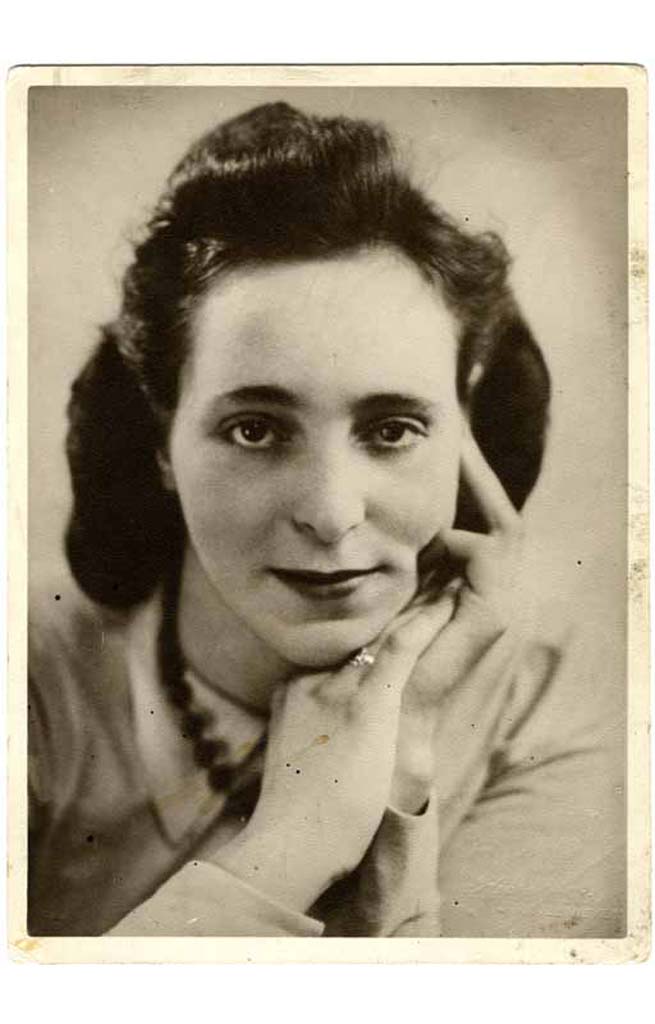 As the taxi stood waiting for us, engine running, my father's mother came to see us unexpectedly. She lived in the neighbourhood and was likely to pop in now and then. She asked what was going on. My father said that we were trying to get away to England, to which my grandma replied: 'And what about us?' My father sent the taxi away. It was a very difficult and emotional moment.
After the German invasion it dawned on Frieda what it meant to be Jewish. Jews had ever less freedom of movement with the introduction of anti-Jewish measures [the Germans introduced ever stricter anti-Jewish measures to deprive Jews of their rights and property]. When Frieda was 16 in September 1941, she had to leave her own school to go to a special school for Jewish children. After school, the pupils organised discussion groups. Frieda then met her first great love, Bob (Sylvian Maurice) de Jong. Bob wrote poems for Frieda. They started going steady but after a while Bob fell in love with another girl. From time to time Frieda went to stay with a girlfriend in Groningen where she had another boyfriend, Andries de Groot.
There's also a photo of us sitting in the woods together. He always wanted to make love to me more than I to him. I was an innocent girl. Later on I've always been sorry that I didn't make love to him more; at least he would have experienced that.
On 5 July 1942, Frieda was among the very fist people summoned to report for 'work expansion' as it was officially called. Jews were told they would be working in the east of the country. Because father Joël thought that Frieda shouldn't be going, he gave her sheets of sandpaper to rub her whole body with, so that it would look as if she had scarlet fever.
I can remember I had to show him the result and how I stood there. I was sixteen and standing in front of my father for the first time with naked breasts. I felt it was a very strange situation. He then went to the Zentralstelle and told them I had scarlet fever. It wrked. I got a postponement.
On his way back to Zuideramstellaan father Brommet walked into a trap and was arrested. There was a large-scale razzia going on. There were two guards to a group of about 20 'prisoners'. He decided to run for it. The guards did not follow him. Then father Brommet decided to go into hiding with his family.
Herenweg 35, Warmond
Through Louis Ritmeester, Frieda's mother's brother, an address was found in Warmond. Because Jews were no longer allowed to travel, father Brommet decided to buy a boat and go there that way. The money he had saved up in the diamond trade was very necessary now. In the afternoon of 16 July 1942 they arrived at the bicycle shop of the Schrijvers family in Warmond. Soon it was clear that the Schrijvers were out to make a lot of money from the Brommet family. In spite of the fact that the Resistance supplied the family with the necessary bonkaarten, the Brommets had to pay 125 guilders a month per person. This would be about €675 in present-day currency. They got very little food in return.
Very occasionally, when we had a birthday, my father paid some extra money so that they would buy us some meat. But in the evening when we were allowed to go to the room where they lived, there was just battery container full of gin. We could all fill ourselves a glass. That was instead of the meat they should have bought.
Louis Ritmeester, mother Rebecca's brother, came to Warmond with his wife Sien de Valença, their two children and Duifje de Valença, one of his wife's sisters. Louis joined in merrily with the drinking sprees and demanded that father Brommet should pay for everything, a thousand guilders a month. The Brommet family was threatened with slow starvation when the news arrived that Rebecca's parents had been arrested. Father Joël was desperate and wanted to leave. The Schrijvers family mediated with a man called Gerritse from Amsterdam, who could organise a flight to Switzerland. But first they would have to pay 6000 guilders, and another 6000 on arrival in Switzerland. A gigantic amount of money. For obscure reasons the flight did not go through but the money was gone. Shortly afterwards father Brommet tried again, through the same contact and now he paid 9000 guilders in one go. After a few days Gerritse had disappeared without trace and the money was gone as well.
After the war we heard that we had fallen into the hands of Joop Bom and Jeanne Valkenburg, one of the most immoral couples living in the Netherlands in the Second World War. They swindled Jews out of huge amounts and then betrayed them. That's exactly what happened to us.
The next day the Sicherheitspolizei were at the door to arrest all eight Jewish people who were in hiding there. They were first taken to the headquarters of the Sicherheitsdienst in Euterpestraat in Amsterdam, and shortly afterwards transported to Westerbork. There they heard that father Brommet's parents had also come to a bad end. Grandfather Hartog was shot dead in his own kitchen on 25 April 1943 when Sicherheitsdienst officers came to arrest him at home. His wife, Frouke Brommet-Wolf tried to escape by jumping from the balcony, but was arrested after all.
Westerbork
In Westerbork the Menco family were placed in the Penal Barrack. Compared to the hiding address, Westerbork was an improvement for Frieda. She got more to eat than when she was in hiding and she had contact with other people. She met Anne Frank. On 4 September the Brommet family was transported to Auschwitz. As one of the total of 1019 Jews, she was on the same train as the Frank family. The journey was a horror that lasted three days.
Frieda and her mother survived Auschwitz, but her father did not. Frieda Menco's story is told in the Dutch book Frieda. Verslag van een gelijmd leven by Ad van Liempt.