Diezestraat 6 II, Amsterdam
Betty was born into a family of four. She had one sister, Renée, who was two years older. Her father, Hijman was a municipal civil servant and married to Lena de Leeuw.
We lived in a nice house in Amsterdam, we had pretty clothes and sometimes we went on holiday, usually to the seaside.
When the war started, Betty and her sister were collected by two aunts and taken to Rotterdam. Her parents thought they would be safe there. But Rotterdam was bombed by the Germans and they were quickly returned to their parents in Amsterdam.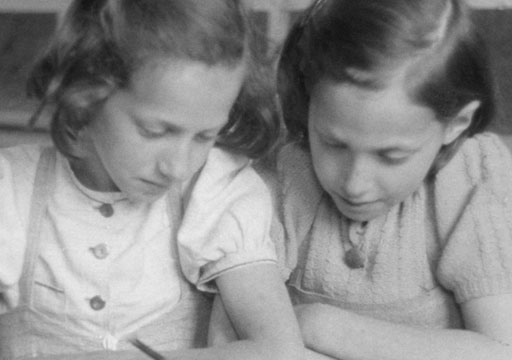 Betty had in fact not been aware of being Jewish. This changed at the time of the introduction of the anti-Jewish measures. Betty's father was sacked and she and her sister had to go to a special Jewish school.
Only then did we realise that we were Jewish. I didn't even know what being Jewish meant because our parents had nothing to do with the Jewish faith. We celebrated Easter and Christmas like everybody else. Hitler made us Jewish.
In May 1942, all Jews of six years and older had to start wearing a Jodenster. Betty's mother hated the Star and sowed it on very slovenly.
Sometimes we went shopping when it wasn't allowed; we then held our handbag in front of the Star so that no one could see it.
Middelburg
In early May 1943, Betty and her older sister were placed with a family in Middelburg, where five other Jewish children were already in hiding. The girls were given another surname; from then on they were called Staring. They regularly received letters and parcels from their parents. They were instructed to tear up the letters but they didn't.
After awhile we suddenly got no more letters. Then we were told that our parents had been deported.
Amsterdam
Not much later the address was betrayed and Betty and her sister had to leave. A person from the Resistance took them to an address in Amsterdam where they remained for a few weeks.
We were in a house on a canal, in a small room which we weren't allowed to leave. The window had been boarded up. Only on Sunday could we go to the living room to eat with the others. Fortunately my sister and I were good at playing together. But those people found it too risky. After three weeks we were collected and taken by boat to Friesland.
Wolsum
Betty and her sister ended up at a farm.
A farmer lived there with his housekeeper. We called her Muoike, she was a very sweet woman. 'Muoike' is the Frisian word for aunt. That farm was paradise for me. I loved it there: being outside and looking after the animals!
In Friesland Betty went to school as usual. One day when she was walking to school in a group of girls, suddenly some German soldiers appeared. She ran away scared.
I hurried into a farm and the people sent me upstairs. But the soldiers came in and one of the Germans came upstairs. He saw me sitting on the bed, trembling with fear, but he went down again and said that there was nobody upstairs.
After the war, Betty and her sister stayed on at the farm for a while. Until one day an aunt of theirs, who had gone looking for them, was waiting for them in the living room. Nobody had known where they were.
Then we heard that our parents were killed in the extermination camp Sobibor. We went back to Amsterdam and until I was twenty-one, I lived with my uncle and aunt.