Amsterdam, #30 Jekerstraat
The Degen family consisted of father, mother and daughter Rita. Rita's mother, Bertha, was a bookkeeper and her father, Frits, was a representative for a stationary shop. In the summer of 1942, Frits Degen worked briefly for the Joodsche Raad. He had to be a steward during one of the first deportations from the Hollandse Schouwburg. What he saw there horrified him and he was convinced that deportation meant death.
My father had already arranged addresses to go into hiding, not only for himself but also for his parents and all my mother's brothers and sisters. They never made use of them. 'It won't be as bad as all that,' they said.
Immediately after, in August 1942 the family decided to go into hiding.
Amsterdam, #2 Galileiplantsoen
For Rita a place was found with Frits Degen's employer. He was Jewish himself but in a mixed marriage [that meant he was married to a non-Jewish woman. People in mixed marriages were originally exempt from deportation, but they did have to stick to the strict anti-Jewish measures]. He had gone into hiding at his own house. Rita did not have an easy time here. She was not allowed to go to school and had to hide in the playground when visitors came that couldn't be trusted. Especially when 'Aunt Loes' came, they were very careful. She was married to an NSB man. Still, one day Rita met 'Aunt Loes' on the stairs.
The door was closed so I had to ring the bell. The door was opened from upstairs with a rope and halfway stairs stood my uncle and Aunt Loes. She looked at me: 'Oh? And who are you?' Bad news, I knew instantly.
The address was no longer safe. After a stay of almost a year, Rita had to go.
Hengelo
Rita then went to a young family in Hengelo, the Fonds family. They had a young boy, Wim, one year old. Rita enjoyed being with "Uncle Kees" and "Aunt Marie". She was lovingly treated.
I still kept feeling there was something wrong with me. I didn't go to school, for instance, but I got private lessons. They made up an explanation: because I had never learnt anything yet, I had to be taught separately.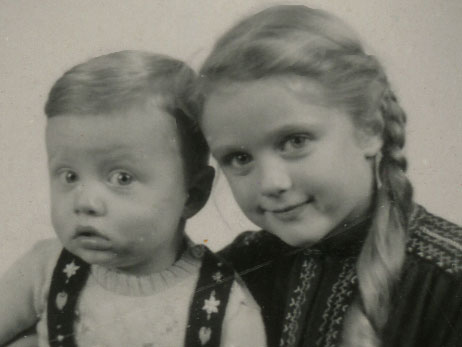 Because there was a war industry based in Hengelo, it was heavily bombed by the British from 1943 onwards.
In the beginning of 1944 we were all evacuated to Kwakersplein in Amsterdam. Just in time, because in the week after our departure an incendiary bomb fell on our house in Hengelo.
Amsterdam, Kwakersplein
In Amsterdam Rita could go to school normally and she went through life as Rietje Fonds. She was out in the streets all day looking for food during the Hunger Winter.
Round the corner of Kwakersplein was a food depot and a small barrack of the Wehrmacht. I often used to linger around there until a soldier came to me and gave me a carrot or a piece of bread.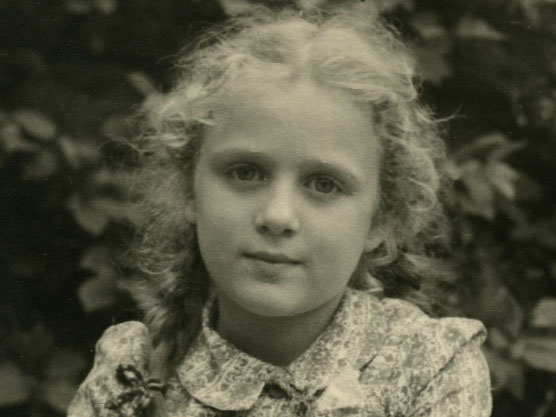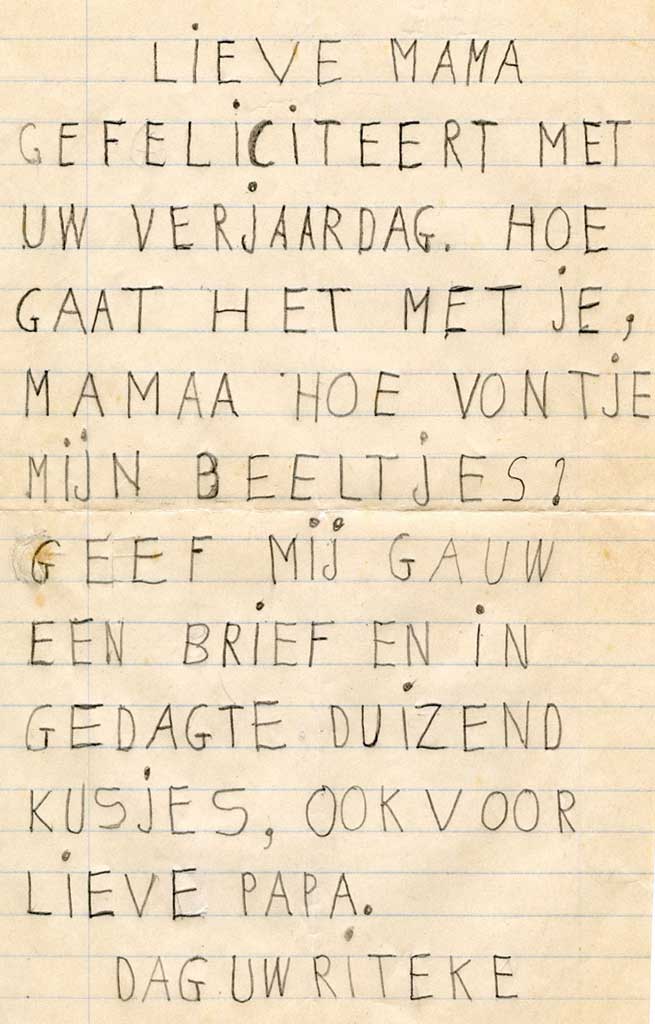 Rita stayed here until the end of the war. By then she was so attached to her stepparents and brother that she didn't really want to leave. After the liberation, her parents came to fetch her. They couldn't go back to their house in Jekerstraat but moved in with the Amsterdam family in Betondorp. The father of that family, Bertus Amsterdam, had had done a lot of work for the Resistance. He had cycled regularly from Amsterdam to Zeist to take money to the address.
I didn't hear from Uncle Kees and Aunt Marie anymore. There was no telephone and it was too far to walk from Middenweg to Kwakersplein. I felt terribly unhappy. I'd promised myself was going to look after Aunt Marie until the baby arrived, and what was to become of that now?